Crocheted Bubble String
Pretty and simple DIY project with step-by-step guide.
It is no secret that we love any type of popcorn stitch. Therefore, we have created this tutorial to learn you how to make our sweet pacifier clip for your little one.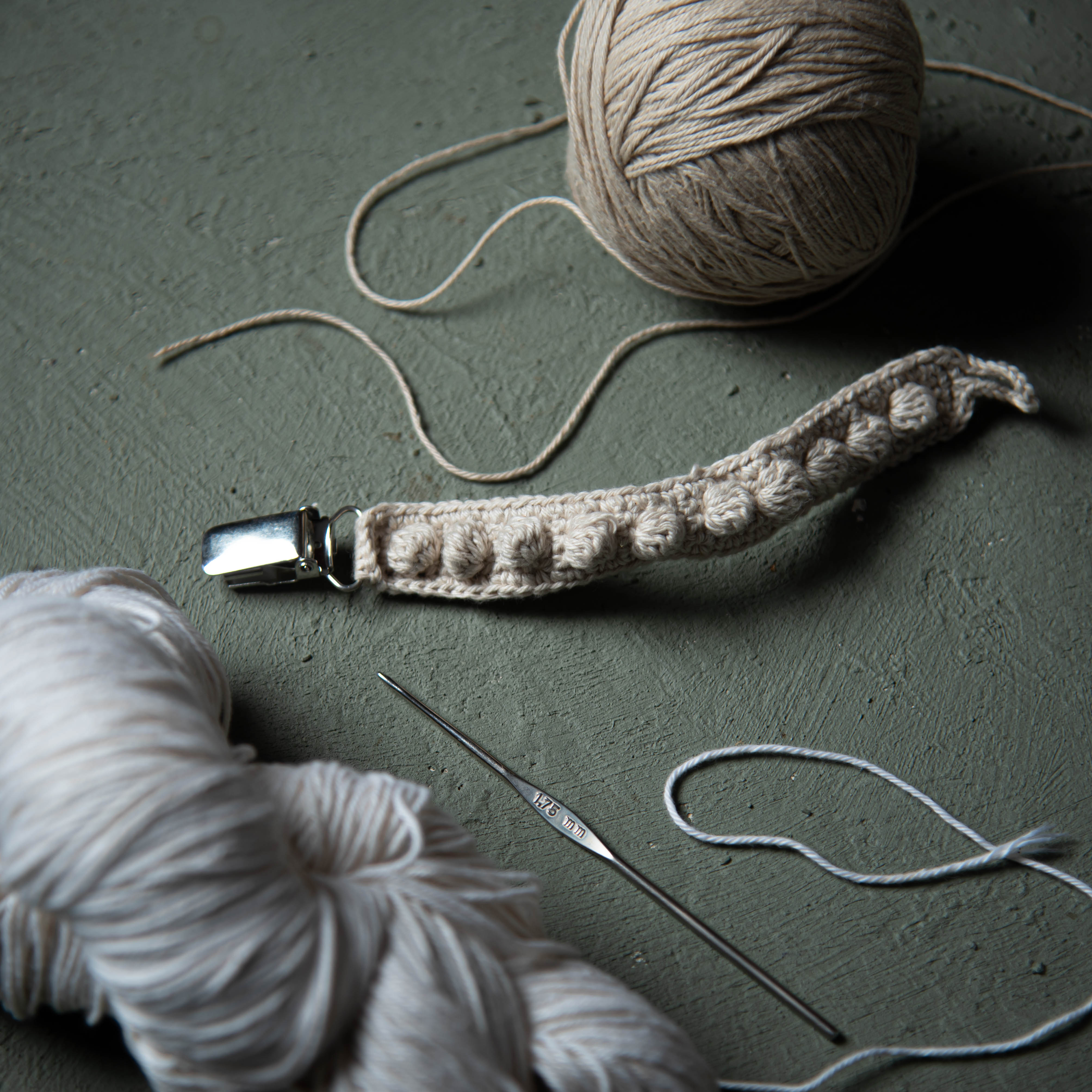 - A suspender clip
- Some yarn (we used cotton)
- Crochet hook (we used 1.75 mm)
STITCH ABBREVIATIONS:
ch: chain
sc: single
dc: double crochet
STEP 1
Start by securing the yarn to the clip with 2 ch.
After that, flip the clip around and add 5 sc.
STEP 2
Follow with 1 ch and then add another row with 5 sc.
Make 1 ch and follow with 2 sc, and get ready to add your first BUBBLE!
After your second sc, add 5 db into the next hole. Add 2 sc to finish the row and secure the BUBBLE.
STEP 3
After your first BUBBLE, repeat the process again:
5 sc + ch
5 sc + ch
5sc + ch
2 sc + 5dc + 2 sc
Follow these steps until you finish eight more BUBBLES.
STEP 4
After your tenth BUBBLE, add 2 rows of 5 sc. Now get ready to clean and smoothen the edges.
Add sc throughout the edges - cover all sides of the string, and keep adding sc around the rest of the string.
STEP 5
Once you've added sc around all sides, add sc, followed by 10 ch.
Skip one or two stitches and then sc it into the string to form a loop.
Hide and secure the excess yarn.

WE HOPE YOU HAD SOME FUN!