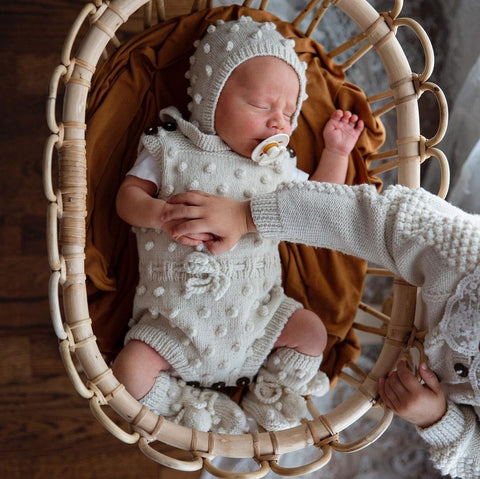 How to Choose a Baby Coming Home Outfit
We've created a collection of very special newborn clothing with this exciting moment in mind and crafted an array of sweet "baby coming home" outfits. Here are some things to consider when selecting your newborn's coming home outfit:
CLIMATE
Was your baby born in a summer heat wave or during the frigid winter months? It's important to consider climate when choosing a take-home outfit. We mainly use pure vegan cotton and mulesing-free merino wool in our collections as these natural fibers are hypoallergenic, anti-bacterial, and biodegradable.
We suggest selecting merino wool for cooler temps as it's warmer, insulating, and oh-so soft against your baby's skin. A cotton is a great option for hotter climes as it's super breathable and aerating so your baby will feel comfortable at the hospital and during the drive home.
colors
Rich, earthy tones are a great choice for your baby's coming home clothing. Our newborn collection is crafted in an inviting palette of soft neutrals like warm caramel, grey, cream, and oat.
We don't believe gender identity is tied to color—all colors are made to be enjoyed by all people. Neutrals will also stand the test of time and can be worn by your next baby or passed down for generations to come.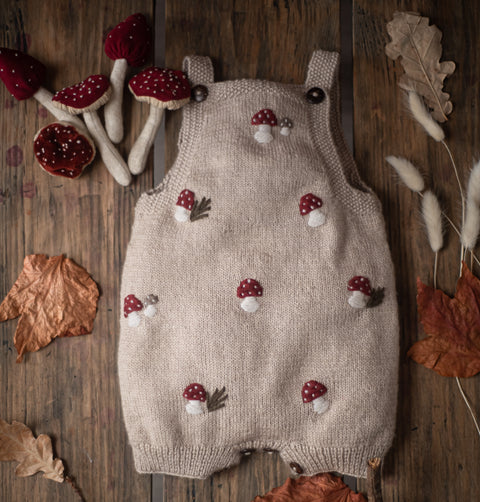 COORDINATING SETS VS. MIX-AND-MATCH
You can choose a coordinating set for your little one's take-home look, or mix-and-match to create a unique ensemble. Many of our styles feature matching separates, footies, and bonnets so you can pull together a customized pairing for your baby's big day.
Our Newborn Collection features your favorite bonnets, rompers, cardigans and wrap blouses made from soft loom-knitted cotton and cashmere. Only the best, mindfully made fabrics for your baby!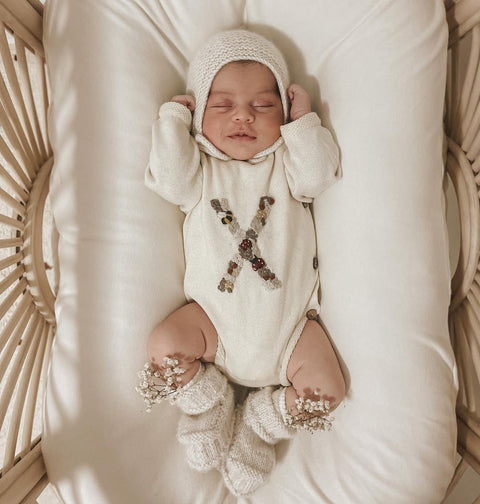 PERSONALIZATION
Select an initial for monogramming (like the first letter of your baby's name) and we'll embroider it on your item of choice in our signature Flora or Woodland style (you choose)!
These personalized details are an extra special addition to your heirloom baby clothing and are great for photos at the hospital or when the baby arrives home for the very first time.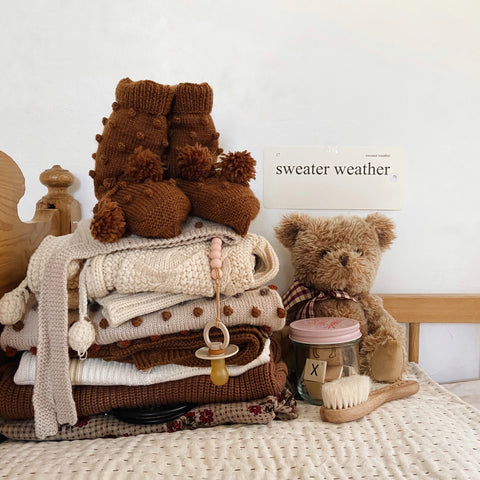 We are honored to be a small part of the "take baby home" stories for many families around the world, and that's why we continue to create lovingly handcrafted heirloom baby clothes for you to treasure.
Thank you for taking us on this journey with you!