We create heirloom treasures
Our pieces meld contemporary Nordic clothing quality principles with the strong workmanship found in Nepal's hand-knitting communities.
We make beautiful treasures for you and your children - with lots of intention, love and care. Our collection of hand-crafted pieces carries the love of grandmothers, embodies the beauty in imperfection and celebrates the skill-level of true craftsmanship.
Shirley Bredal strives to pass down the love, intention and beauty of precious handcrafted heirloom pieces, while upgrading traditional artisan techniques with a beautiful and timeless nordic design.
Our responsibility
We take our responsibility seriously. We are a small team of mothers creating heirloom gems for your little one and yourself. It is a journey for us to become our most sustainable self, that we are constantly working on innovating. We have a responsibility to collaborate in a kind and fair way with the people crafting for us and doing so with the least negative impact on our environment.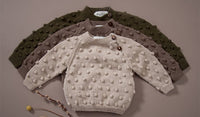 BUBBLES - A CLASSIC AND COZY COLLECTION
The bubble range is a classic knit pattern that has now become an entire range in our collection. We experiment with various colours and offer the collections in both cotton and merino wool. The ladies making this range have been doing so for the past 6 years and are experts really. We feel it is the perfect unisex range – and our own children are almost always dressed in bubble knits. It has that perfect vintage feel but is also just such a fun pattern for the children. A forever classic range in our collections.
Explore the collection here.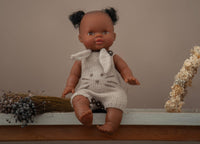 THE KOALA AND MINI-KNITS COLLECTION
How cute are these little mini versions of your child's pieces? The collection was developed because we had quite a few women interested in enganging eith us and gaining a side income from kitting for Shirley Bredal KTM, but their experience level was not quite up to level for larger pieces. We therefore developed a small training effort for smaller sized pieces – and from there the collection grew. We love love love seeing your little ones playing with our dress up koala dolls and other dolls, wearing our little mini knits. It is such a feel-good range in terms of design, but certainly also in terms of the jobs it creates in Kathmandu.
Explore the collection here.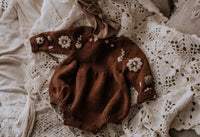 FLORA - AN HEIRLOOM COLLECTION TO TREASURE
Our beautiful Shirley Bredal floral collection is our absolute pride and joy – an exclusive design for our brand, that took almost 2 years to develop. The handcrafted styles are stitched together and finished off by hand, and then sent over to our wonderful embroidery team of ladies. These ladies are home based and embellish the styles by adding the wonderful embroidery – entirely by hand. Stitch for stitch the flora pieces come alive. Truly an heirloom collection to cherish and pass down to the next sibling or friend.
Explore the collection here.

WOODLAND - A MAGICAL FOREST COLLECTION
This range is the result of a fun poll we did among our family of followers and customers. We asked for ideas for a new unisex embroidery range – and among many wonderful suggestions, the thought of a Woodland range felt so right! It was perhaps our most complicated range till this date to develop – balancing shapes and colours to achieve this magical design. The ladies embroidering this range are a selected few, and there is a limit to how many pieces we can make, because it truly is a time heavy task. Making the pieces actual little treasures to pass on to the next sibling or friend.
Explore the collection here.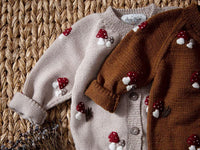 MUSHROOM COLLECTION - A LITTLE WOODLAND UNIVERSE
This range is handcrafted from our soft merino wool and features hand-embroidered elements by our artisan ladies. A little woodland universe in itself, the colorful details add sweet magic to these timeless designs. It is a gender-neutral style that is warm, soft and very well-crafted.
Explore the collection here.

LITTLE BUDS COLLECTION
This sweet collection is our newest embroidery range, and it has those perfect vintage vibes, but also feels so fresh with its tonal colours and very flattering styles. The sweet all-over HAND embroidery is adorned front and back and is the result of many hours of skilled work and attention.