What Makes Heirloom Baby Clothes So Special?
From carefully curated natural fabrics to special artisanal touches, it's all in the details when it comes to heirloom baby clothes.
Here we talk about what makes our collections so unique and hear from a few mamas in our Instagram community about what they love most about their favorite Shirley Bredal pieces.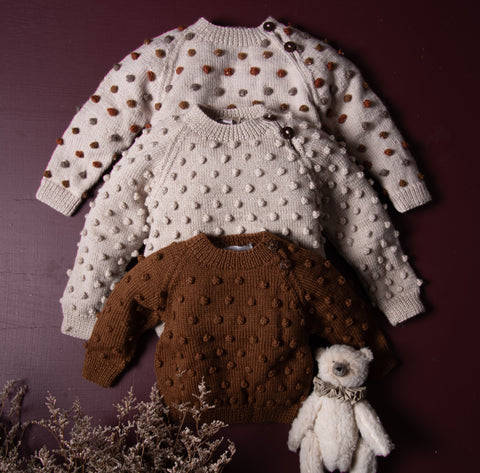 made with love
Our collections are crafted by artisan women—many of who are mothers themselves—who take great pride in their work. Made by mamas for mamas, each intentionally placed stitched and hand-looped knit is created with care. Our hope is that you will feel that love and thoughtfulness every time your little one is wearing their Shirley Bredal heirloom clothing.  
"Our first bubble-knit sweater was Shirley Bredal…I love the quality and details and it shows that each of her pieces is hand-knitted with love." – @alletrejo
natural fibers
The exceptional quality of heirloom baby clothes starts with the fabrics. We carefully select soft and gentle natural fibers that will feel cozy against your baby's sensitive skin. Natural fabrics such as hemp offer superior tensile strength and will maintain its integrity, shape, and softness after repeated laundering, so you know these pieces will stand the test of time. Furthermore, we intentionally use untreated natural fabrics, so they are 100% biodegradable and kinderon our planet.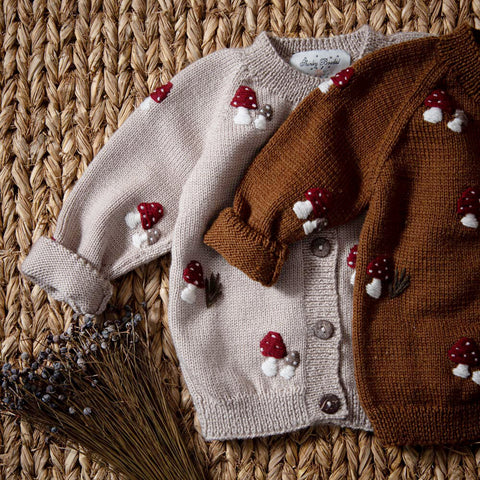 safe dyes
We only use the safest, azo-free dyes in our heirloom collections. You may be surprised to learn that 70% of all organic commercial dyes use azo compounds, a dye that has been linked to cancers and other ailments. Azo dyes do not break down under natural conditions, causing them to bio-accumulate into the environment and negatively impact the ecosystem. 🌿
We want to respect our Earth while providing safe and comfortable clothing for your little ones. Our dyes are always azo-free, suitable for all skin types, and won't cause irritation to your baby's sensitive skin.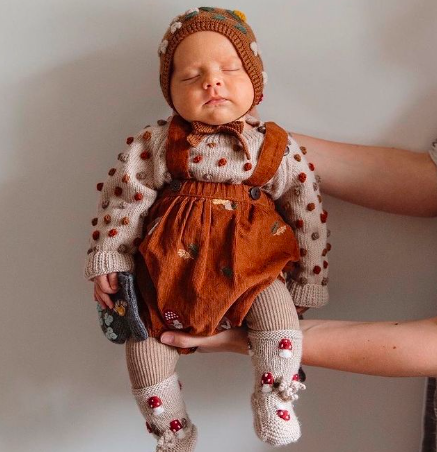 MINDFUL DETAILS
Carefully considered details make all the difference when it comes to dressing your little ones. From cozy tie-string waistbands to adjustable shoulder straps and neckline buttons that make dressing a breeze, each piece is made to grow with your child so you can enjoy it longer and make more memories in your heirloom pieces. 
"They are not just clothes for me, they are lovely memories of my children." – @dianasmommylife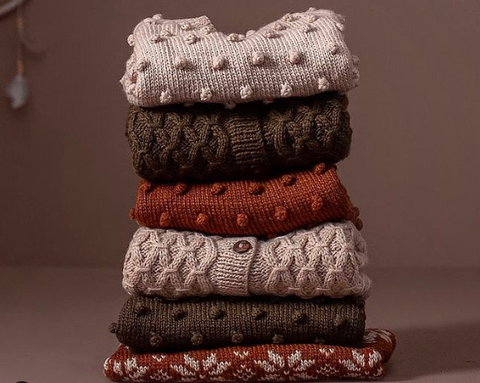 quality over quantity
One thing that makes heirloom baby clothing so special is the quality. Small children can be rough on their clothing, and our durable hand-made clothing will ensure they stand the test of time and allow your little ones to wear their Shirley Bredal pieces on repeat. ❤
Quality clothing also reduces the need for quantity—you can enjoy the same pieces over and over and feel good knowing you are reducing waste and your environmental impact. Heirloom pieces are meant to worn and loved, filled up with your stories and memories, and then passed down for generations to come.